Emmanuel Church hosts an annual fellowship weekend every summer in the beautiful Rocky Mountains.  It is a wonderful opportunity for families, couples, singles, young and old to engage in God's Word, fellowship together, and participate in fun activities.  The camp takes place at Camp Eden, a location surrounded by God's beautiful creation, where His awesome majesty is clearly displayed in the surrounding mountain peaks!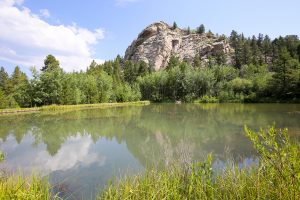 Plans for Camp 2021 are underway!
Can you help us make it a success?
COVID has greatly limited our ability to fundraise, and as prices continue to increase we need donations to make camp feasible for those who want to attend.  As a bonus to knowing you've helped families attend camp, we also have a few incentives for you.  If you are looking for a unique Christmas gift, read on!
If you make a donation of $20 we will send you an Emmanuel ARC Recipe book with over 60 of our favorite recipes!
If you make a donation of $50 we will send you the Recipe book AND an Emmanuel ARC t-shirt!
If you make a donation of $100 we will send you the Recipe book, a t-shirt, AND (while supplies last) a vintage Heritage Christian School mug from the days when Emmanuel ARC had a school.  There aren't too many of these mugs left, and they would be of great nostalgic interest to former students, teachers, and supporters of the school, or anyone that appreciates Christian education.
Donations need to be received by November 23 in order for us to ship in time for Christmas.  If you would like to receive the thank you gifts, we need your mailing address, as we do not get that information from GoFundMe.  After you've made your donation on the GoFundMe page, please email your address and, if applicable, the size of t-shirt (specify women's or men's size) to denverchurchcamp@gmail.com.  If you do not email us your address we will assume you do not want to receive the incentive gifts.  Our GoFundMe link is here: gf.me/u/xcivx2
Notice that GoFundMe will ask for a tip and that tip is a donation for the GoFundMe platform, not Denver Family Camp.  If you would like to support the GoFundMe website, feel free to leave an amount in the tip area, otherwise select "Other" and change it to $0.
Please note that donations will be received in US dollars.
Details for Camp 2021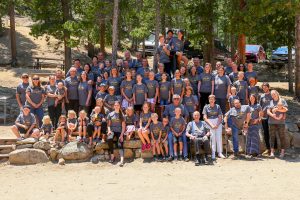 Camp 2021 will be held at Camp Eden (11583 Camp Eden Rd Golden, CO 80403).  Our speaker for 2021 will be Rev. Julius VanSpronsen, pastor of the Immanuel Canadian Reformed Church in Edmonton, and we will be working on a study of Ecclesiastes together.  The weekend is tentatively set for July 2-5, 2021.  All this the Lord Willing!  For registration or any questions, you may email denverchurchcamp@gmail.com.
Join us this Sunday
Worship with us:

10290 Wadsworth Blvd., Westminster, CO. 80021

Service times:

Sunday: 9:30 AM and 3:00PM

Service times:

Sunday: 9:30 AM and 3:00PM

Minister:

Pastor Steve Vandevelde